Come and experience the Werkself!
We are counting on you as a fan and you can count on your season ticket for moments that will stand the test of time at the BayArena. Turn your seat into your very own lion's den in the 'BayArena' living room. Be it for the Bundesliga or for top international matches or DFB Cup clashes, with your seat guarantee, you'll always be in the thick of the action. Click
here
for your season ticket.
It pays to go for a golden (season) ticket because Bayer 04 guarantees you your regular seat in the BayArena. We personally guarantee your personal seat. Atmosphere and emotions included. You lean back. We take care of you. That's a guarantee.
1. 90 minutes of goose bumps
2. Up close and personal, experience the emotions

Experience the Werkself live. Your team within a goal's reach. Welcome, applaud and cheer on the players from your regular seat. Be there when our boys go on hunt for goals and glory in the BayArena. Enjoy the perspective from your very own seat. Spur the team forward at every home match. And turn the BayArena into a lion's den.
On your own, with your family or with friends, here every fan gets their money's worth. Be a permanent part of the action at competitive prices because you save money with your season ticket compared to buying a day ticket. Another big win for your wallet: You automatically become a free Bayer 04 Club member and receive advance purchase rights for day tickets.
Here you can go for the golden ticket without any risk. That's for sure. Matches without spectators? We will refund the season ticket price to you on a pro-rata basis. Further lockdown? We'll find flexible solutions to suit you. Risk of infection? Here only the atmosphere is infectious because our hygiene concept guarantees you an absolutely worry-free visit to our BayArena, the place where sparks fly and glory goes.
Your benefits with the season ticket
Interested in knowing more?
We have two season ticket models on offer:
If you choose the 'Bundesliga' season ticket, you can experience the Werkself at every Bundesliga home match.
Would you like the complete football package? With the 'BundesligaPLUS' season ticket model, we also hold your seat for international home matches and the DFB Cup.
By the way, you select your seat yourself: you can first choose your preferred seat and then select your season ticket model.
How much does your season ticket cost?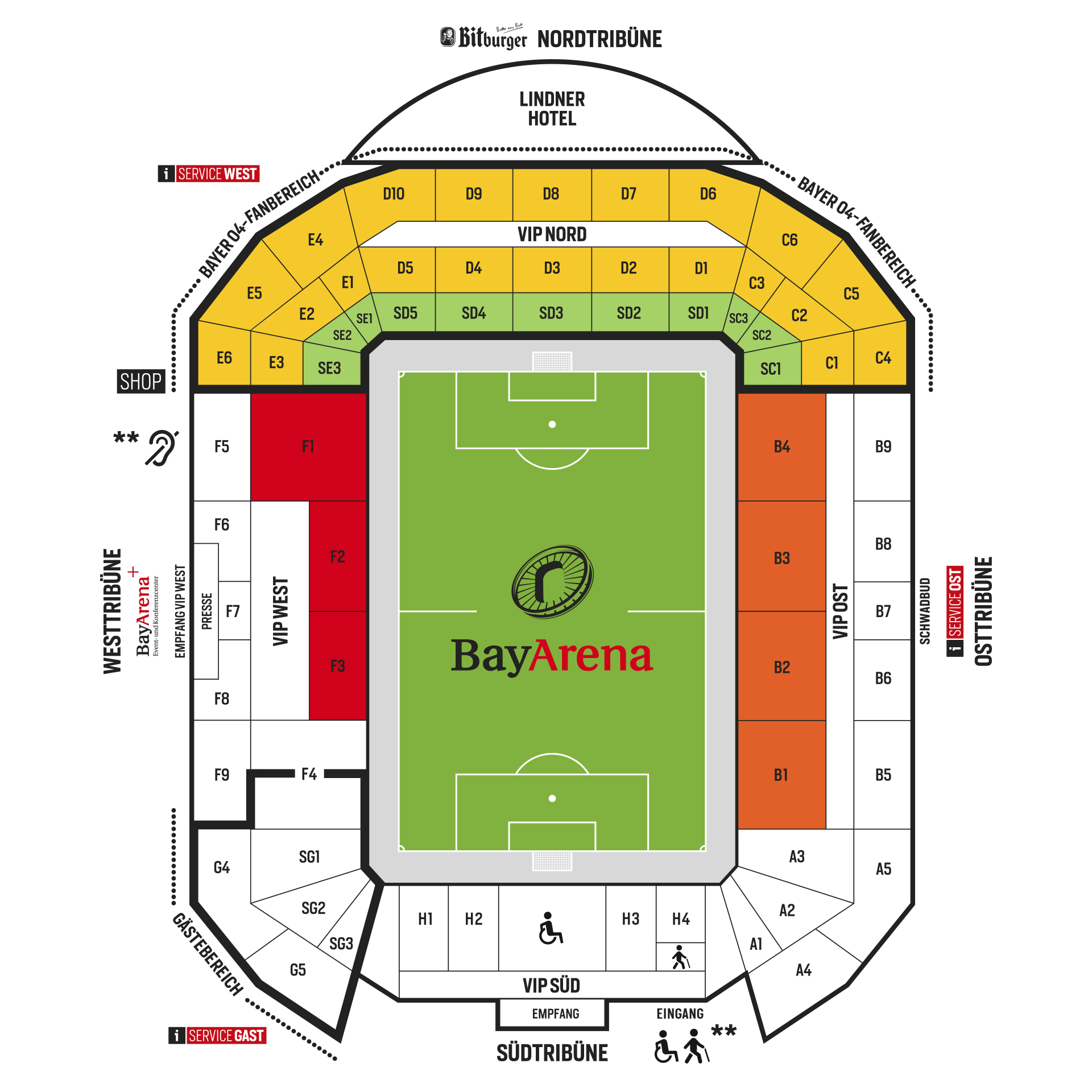 | Colour | category | FULL-PAYING | | YOUTH | Child |
| --- | --- | --- | --- | --- | --- |
| Test | Cat. I | 440 € | 350 € | 265 € | 135 € |
| Test | Cat. II | 360 € | 290 € | 215 € | 110 € |
| Test | Cat. III | 290 € | 230 € | 175 € | 90 € |
| Test | Cat. IV | 190 € | 150 € | 100 € | --- |
THESE SPECIAL PRICES ARE AVAILABLE*

Concessional: Applies to severely disabled persons / schoolchildren, trainees and students / persons doing voluntary service and pensioners / senior citizens aged 65 and over.
Youth: For young people between 14 and 19 years of age. There are no youth tickets in category 1 (see price overview).
Child: For children up to and including 13 years of age. Young fans are very welcome. However, they may only cheer on the Werkself in the BayArena if accompanied by a parent or guardian. There are no children's tickets in category 1 and in the standing-room area (see price overview).
*Eligible for a discount? Then please have your photo ID ready on match day and show it to our stewards at the entrance.
WHAT IS THE SEASON TICKET?
HOW DO I FIND THE PERFECT SEASON TICKET SEAT?
CAN I PURCHASE MORE THAN ONE SEASON TICKET?
WHAT IF I CAN'T GO TO A MATCH?
HOW DO I PAY FOR MY SEASON TICKET?
ARE SEASON TICKETS ALSO AVAILABLE FOR FANS WITH SPECIAL NEEDS?
This is what you can look forward to
Dauerkarte von Bayer 04 Leverkusen
Kontinuität gibt Sicherheit, das gilt auch für unsere Profis. So können sich unsere Jungs auf dem Platz stets auf den 12. Mann und insbesondere auf die Dauerbrenner unter den Bayer 04-Fans verlassen. Mit einer Dauerkarte von Bayer 04 Leverkusen garantierst du deinem Verein nicht nur Rückhalt in der heimischen BayArena, sondern schreibst die Vereinsgeschichte vor Ort mit; in guten wie in schlechten Zeiten.
Kein Heimspiel der Werkself verpassen
Neben der Werkself gehen natürlich auch eingefleischte Bayer 04-Fans mit der schwarz-roten Dauerkarte auf Nummer sicher. Stammplatz, kostenfreie Mitgliedschaft im Bayer 04-Club und exklusive Vorverkaufsrechte sind nur einige der attraktiven Vorteile, die dich als Inhaber des Vereins-Bekenntnisses erwarten. Ob im Modell "Bundesliga" oder "BundesligaPLUS" – mit einer Dauerkarte ist dir dein Platz in der BayArena stets sicher.
Unsere Dauerkarte für Fans mit Handicap
Bayer 04 Leverkusen ist stets daran gelegen, durch Fußball Grenzen zu überwinden und Inklusion zu fördern. So ist es uns ganz besonders wichtig, dass Vielfalt in der BayArena Platz finden und mitfiebern kann. Daher freuen wir uns, auch für Rollstuhlfahrer, gehörlose und sehbehinderte Fans geeignete Dauerkarten anzubieten.
Das passende Outfit zur Dauerkarte
Unsere Fans, die der Werkself Woche für Woche in der BayArena den Rücken stärken, benötigen für ihren vereinstreuen Auftritt natürlich das passende Outfit. Im Onlineshop von Bayer 04 Leverkusen halten wir daher alles bereit, was das Fan-Herz begehrt. Ob klassisch im aktuellen Heimtrikot, Auswärtstrikot, Ausweichtrikot oder Torwarttrikot der Werkself; oder in einem unserer modischen Hoodies und T-Shirts – unsere zahlreichen Möglichkeiten im Stile der Werkself aufzutrumpfen bieten jedem Fan das passende Outfit.
Erstmal schnuppern
Überzeug dich selbst: Du möchtest die schwarz-rote Familie, die Werkself und ihr Wohnzimmer, die BayArena, erst einmal kennenlernen, bevor du mit einer Dauerkarte in die Vollen gehst? Dann sind unsere Tageskarten oder 3-Spiele-Packages für Einzelspiele von Bayer 04 Leverkusen genau das Richtige für dich. Fiebere bei Auftritten der Werkself deiner Wahl live mit und erlebe, wenn die Jungs auf dem Rasen alles geben. Einzigartige Stadion-Atmosphäre, 90 Minuten Spannung und offensiver Fußball der Spitzenklasse; all das und vieles mehr wartet darauf, dir eine Gänsehaut zu verpassen.