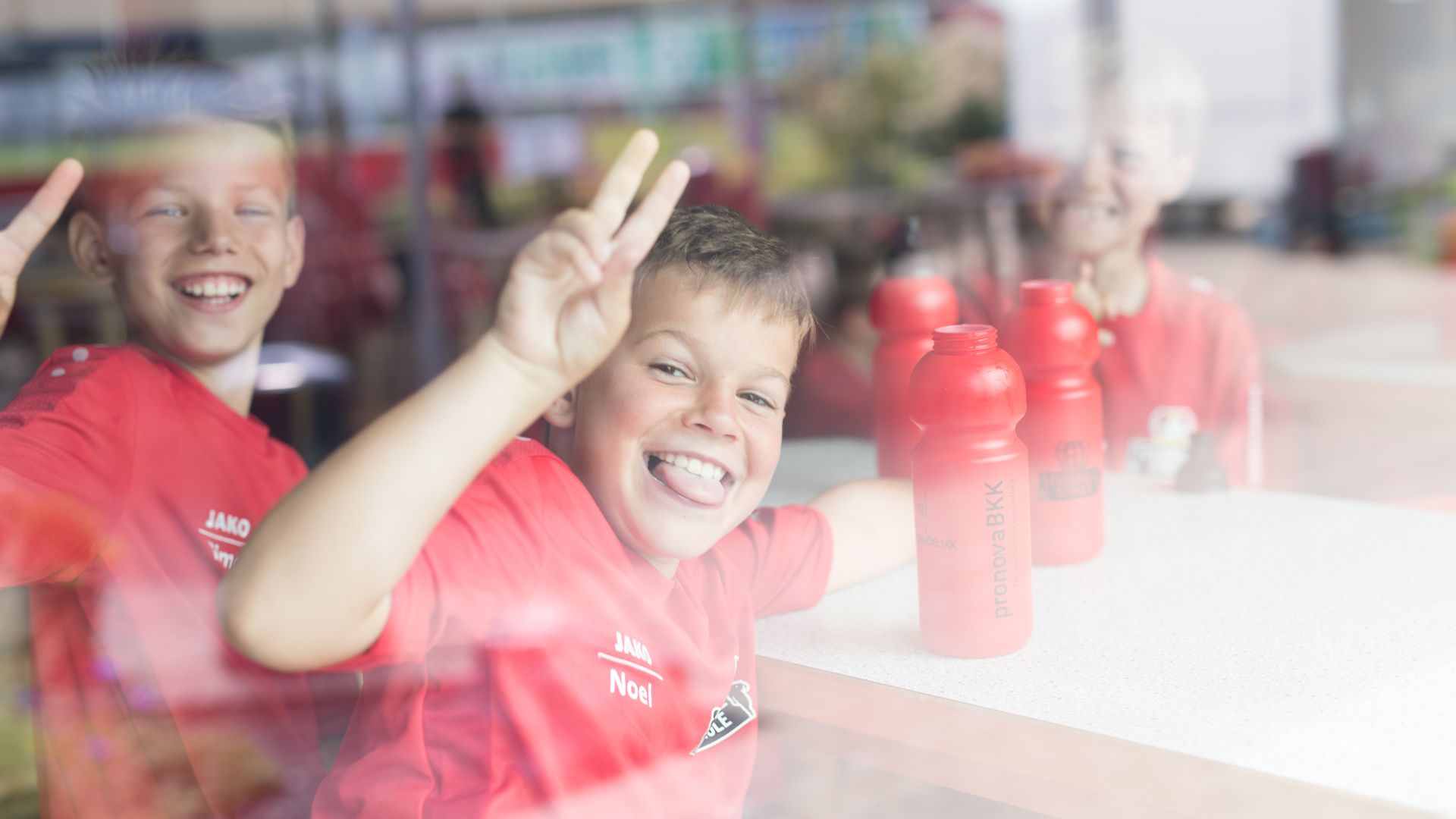 The SOCCER SCHOOL

Overview
Jump into your training gear, do up your football boots, take the pitch by storm and feel like a pro.
Die Anmeldung zur Fußballschule lohnt sich im Frühjahr so richtig für dich. Melde dich noch bis einschließlich 29. Februar 2020 zu einem unserer vielen Feriencamps an und sichere dir eine kostenfreie Löwenclub-Mitgliedschaft für das erste Jahr*.

So einfach geht's:

1. Lege dir die Löwenclub-Mitgliedschaft in den Warenkorb.
2. Wähle Feriencamp aus an dem du teilnehmen möchtest.
3. Sehe im Warenkorb automatisch deine Ersparnis von 30,00 €.

*Im Folgejahr wird dir dann der volle Mitgliedschafts-Preis von 30,00 € berechnet.
Dates
SoccerCentor Leverkusen
Bismarckstr. 127
51373 Leverkusen
16:00 - 17:30 o'clock

SoccerCentor Leverkusen
Bismarckstr. 127
51373 Leverkusen
16:00 - 17:30 o'clock

Year 2006 - 2010

06.04. - 09.04.2020
Jugendleistungszentrum
Kurtekotten
Otto-Bayer-Str. 2
51061 Köln
09:30 - 16:00 o'clock

Year 2011 - 2013
Easter-Camp
06.04. - 09.04.2020
SoccerCentor Leverkusen
Bismarckstr. 127
51373 Leverkusen
09:30 - 16:00 o'clock

Year 2006 - 2010

06.04. - 09.04.2020
Jugendleistungszentrum
Kurtekotten
Otto-Bayer-Str. 2
51061 Köln
09:30 - 16:00 o'clock

Year 2006 - 2010

14.04. - 17.04.2020
Jugendleistungszentrum
Kurtekotten
Otto-Bayer-Str. 2
51061 Köln
09:30 - 16:00 o'clock

Year 2011 - 2013

14.04. - 17.04.2020
SoccerCentor Leverkusen
Bismarckstr. 127
51373 Leverkusen
09:30 - 16:00 o'clock

Year 2006 - 2010

14.04. - 17.04.2020
Jugendleistungszentrum
Kurtekotten
Otto-Bayer-Str. 2
51061 Köln
09:30 - 16:00 o'clock

Year 2006 - 2013

14.04. - 17.04.2020
ASC Loope
Im Auel
51766 Engelskirchen/Loope
10:00 - 16:00 o'clock

Year 2008 - 2013

14.04. - 17.04.2020
SV Alemannia 1916 e.V. Mariadorf
Im Winkel 7, 52477 Alsdorf

09:30 - 16:00 o'clock

Year 2006 - 2013

14.04. - 17.04.2020
JSG Augst
56335 Neuhäusel

09:30 - 16:00 o'clock

Year 2005 - 2013

22.05. - 24.05.2020
TSV Concordia Schöninghsdorf
Bürgermeister-Brüning-Str. 3
349767 Twist
09:30 - 16:00 o'clock

Year 2005 - 2013

29.05. - 31.05.2020
JSG Lennetal
Am Rennert 29
57413 Finnentrop-Rönkhausen
09:30 - 16:00 o'clock

Year 2005 - 2013

06.06.2020
Kurt-Rieß-Sportanlage, Tannenbergstraße 57, 51373 Leverkusen
09:30 - 16:00 o'clock

Year 2006 - 2010

29.06. - 03.07.2020
Jugendleistungszentrum
Kurtekotten
Otto-Bayer-Str. 2
51061 Köln
09:30 - 16:00 o'clock

Year 2006 - 2013

29.06. - 03.07.2020
Jugendleistungszentrum
Kurtekotten
Otto-Bayer-Str. 2
51061 Köln
09:30 - 16:00 o'clock

Year 2006 - 2010

06.07. - 10.07.2020
Jugendleistungszentrum
Kurtekotten
Otto-Bayer-Str. 2
51061 Köln
09:30 - 16:00 o'clock

Year 2006 - 2013

06.07. - 10.07.2020
Jugendleistungszentrum
Kurtekotten
Otto-Bayer-Str. 2
51061 Köln
09:30 - 16:00 o'clock

Year 2005 - 2013

07.07. - 09.07.2020
JSG Scheuerfeld/Wallmenroth
In der Muhlau 57584 Wallmenroth

09:30 - 16:00 o'clock

Year 2006 - 2010

13.07. - 17.07.2020
Jugendleistungszentrum
Kurtekotten
Otto-Bayer-Str. 2
51061 Köln
09:30 - 16:00 o'clock

Year 2006 - 2013

13.07. - 17.07.2020
Jugendleistungszentrum
Kurtekotten
Otto-Bayer-Str. 2
51061 Köln
09:30 - 16:00 o'clock

Year 2006 - 2013

14.07. - 17.07.2020
TSV Germania Windeck
Sportplatzweg 1
51570 Windeck

09:30 - 16:00 o'clock

Year 2006 - 2013

20.07. - 24.07.2020
SSV Alkenrath
Kunstrasenplatz Wilhelm-Leuschner-Straße, Schlebuschrath 2
51377 Leverkusen
09:30 - 16:00 o'clock

Year 2006 - 2013

27.07. - 31.07.2020
SSV Alkenrath
Kunstrasenplatz Wilhelm-Leuschner-Straße, Schlebuschrath 2
51377 Leverkusen
09:30 - 16:00 o'clock

Year 2007 - 2013

27.07. - 31.07.2020
Viktoria Rott
Rolf-Drecker-Platz 1
42283 Wuppertal

09:30 - 16:00 o'clock

Year 2006 - 2013

03.08. - 07.08.2020
SG Silberg/ Eisenhausen
Gloßbergstr., 35232 Dautphetal

09:30 - 16:00 o'clock

Year 2005 - 2012

07.08. - 09.08.2020
SV Ottfingen
Im Siepen
57482 Wenden
09:30 - 16:00 o'clock