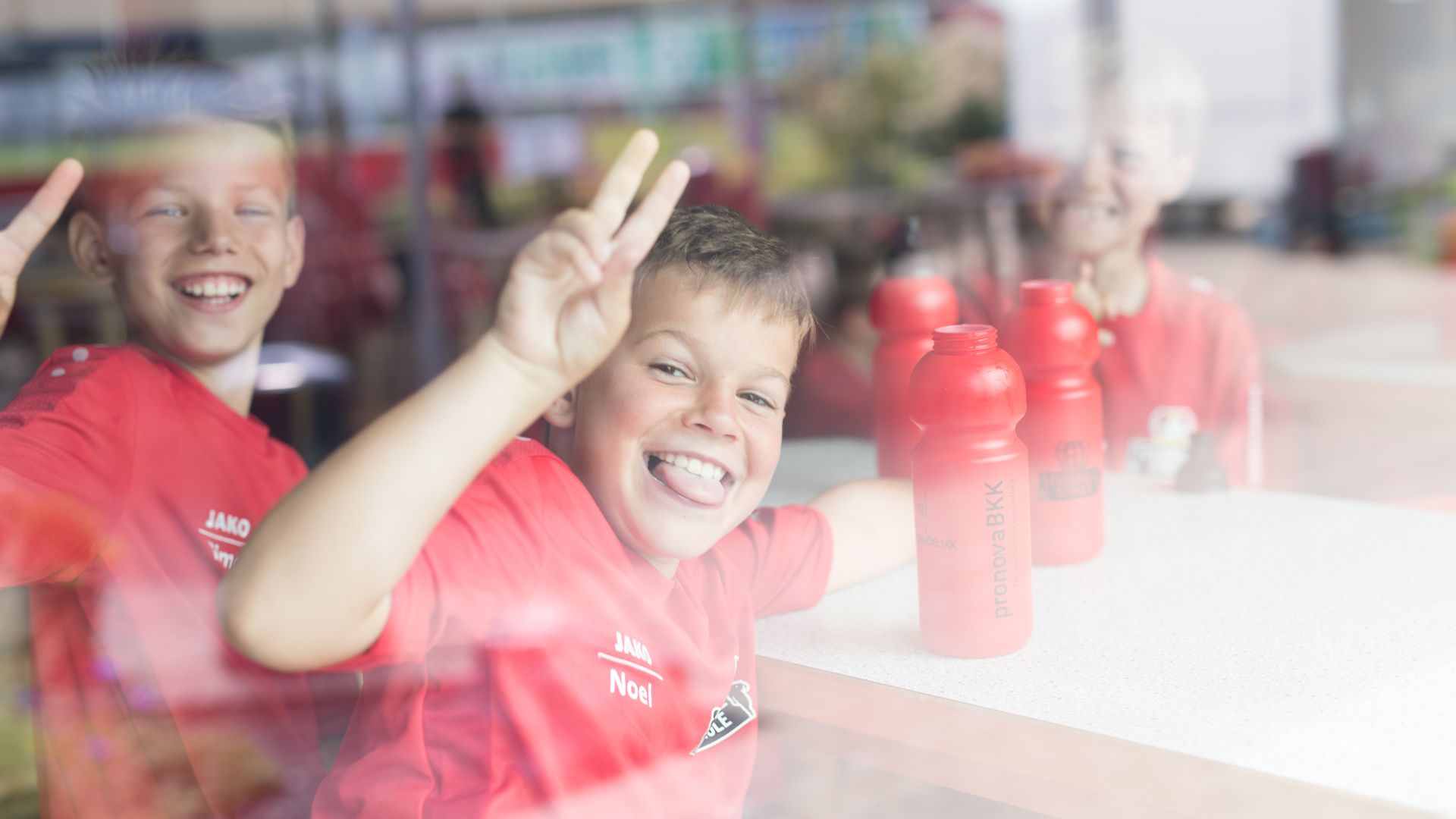 The SOCCER SCHOOL
Overview
Jump into your training gear, do up your football boots, take the pitch by storm and feel like a pro.
Wichtige Information zu den Camps

Die Camps der Bayer 04-Fußballschule können bis auf Weiteres nicht stattfinden. Definitiv betroffen sind die Oster-Camps in Leverkusen sowie alle "Fußballschulen Unterwegs" und Zusatztrainings bis Ende April 2020. Bayer 04 wird alle Käufer der genannten Camps zeitnah detailliert informieren.


Year 2005 - 2013

22.05. - 24.05.2020
TSV Concordia Schöninghsdorf
Bürgermeister-Brüning-Str. 3
349767 Twist
09:30 - 16:00 o'clock

Year 2005 - 2013

29.05. - 31.05.2020
JSG Lennetal
Am Rennert 29
57413 Finnentrop-Rönkhausen
09:30 - 16:00 o'clock

Year 2006 - 2010
Goalkeeper-Camp
29.06. - 03.07.2020
Jugendleistungszentrum
Kurtekotten
Otto-Bayer-Str. 2
51061 Köln
09:30 - 16:00 o'clock

Year 2006 - 2013
Summer-Camp
29.06. - 03.07.2020
Jugendleistungszentrum
Kurtekotten
Otto-Bayer-Str. 2
51061 Köln
09:30 - 16:00 o'clock

Year 2006 - 2010
Goalkeeper-Camp
06.07. - 10.07.2020
Jugendleistungszentrum
Kurtekotten
Otto-Bayer-Str. 2
51061 Köln
09:30 - 16:00 o'clock

Year 2006 - 2013
Summer-Camp
06.07. - 10.07.2020
Jugendleistungszentrum
Kurtekotten
Otto-Bayer-Str. 2
51061 Köln
09:30 - 16:00 o'clock

Year 2005 - 2013

07.07. - 09.07.2020
JSG Scheuerfeld/Wallmenroth
In der Muhlau 57584 Wallmenroth

09:30 - 16:00 o'clock

Year 2006 - 2010
Goalkeeper-Camp
13.07. - 17.07.2020
Jugendleistungszentrum
Kurtekotten
Otto-Bayer-Str. 2
51061 Köln
09:30 - 16:00 o'clock

Year 2006 - 2013
Summer-Camp
13.07. - 17.07.2020
Jugendleistungszentrum
Kurtekotten
Otto-Bayer-Str. 2
51061 Köln
09:30 - 16:00 o'clock

Year 2006 - 2013

14.07. - 17.07.2020
TSV Germania Windeck
Sportplatzweg 1
51570 Windeck

09:30 - 16:00 o'clock

Year 2006 - 2013
Summer-Camp
20.07. - 24.07.2020
SSV Alkenrath
Kunstrasenplatz Wilhelm-Leuschner-Straße, Schlebuschrath 2
51377 Leverkusen
09:30 - 16:00 o'clock

Year 2006 - 2013
Summer-Camp
27.07. - 31.07.2020
SSV Alkenrath
Kunstrasenplatz Wilhelm-Leuschner-Straße, Schlebuschrath 2
51377 Leverkusen
09:30 - 16:00 o'clock

Year 2007 - 2013

27.07. - 31.07.2020
Viktoria Rott
Rolf-Drecker-Platz 1
42283 Wuppertal

09:30 - 16:00 o'clock

Year 2006 - 2013

03.08. - 07.08.2020
SG Silberg/ Eisenhausen
Gloßbergstr., 35232 Dautphetal

09:30 - 16:00 o'clock

Year 2005 - 2012

07.08. - 09.08.2020
SV Ottfingen
Im Siepen
57482 Wenden
09:30 - 16:00 o'clock

Year 2006 - 2010
Goalkeeper-Camp
12.10. - 16.10.2020
Jugendleistungszentrum
Kurtekotten
Otto-Bayer-Str. 2
51061 Köln
09:30 - 16:00 o'clock

Year 2011 - 2013
Autumn Camp
12.10. - 16.10.2020
SoccerCentor Leverkusen
Bismarckstr. 127
51373 Leverkusen
09:30 - 16:00 o'clock

Year 2006 - 2010
Autumn Camp
12.10. - 16.10.2020
Jugendleistungszentrum
Kurtekotten
Otto-Bayer-Str. 2
51061 Köln
09:30 - 16:00 o'clock

Year 2011 - 2013
Autumn Camp
19.10. - 23.10.2020
SoccerCentor Leverkusen
Bismarckstr. 127
51373 Leverkusen
09:30 - 16:00 o'clock

Year 2006 - 2010
Autumn Camp
19.10. - 23.10.2020
Jugendleistungszentrum
Kurtekotten
Otto-Bayer-Str. 2
51061 Köln
09:30 - 16:00 o'clock

Year 2006 - 2010

19.10. - 23.10.2020
Jugendleistungszentrum
Kurtekotten
Otto-Bayer-Str. 2
51061 Köln
09:30 - 16:00 o'clock